Alignment Service
Maintaining the alignment of your wheels is very important to the health of your car. Not only is it important for your safety, but it can also prevent other issues from occuring in the future. Although our showroom is located in Ramsey, NJ, off New Jersey Route 17, we have our service center in 1096 NJ-17 Ramsey, NJ 07446.
Benefits of Alignment Service
Why do these types of maintenance checks help drivers reduce automotive expenses? During the course of vehicle operation, a tire sometimes begins showing heavier wear along the edge. Without correction, this situation degrades the tread much faster. You'll extend the useful lifespan of your vehicle's tires by obtaining regular alignment inspections and tire rotation services at your Toyota dealership. Two other benefits also result from asking a technician to perform this type of maintenance now. First, if you don't relish the idea of changing a tire beside the edge of the road or having to call for a tow vehicle on short notice, scheduling this routine service makes a lot of sense! Second, by ensuring proper tire alignment prior to the arrival of snowy weather, you'll help maintain your motor vehicle in better operating condition. In some locations, drivers must stop to apply snow chains to their tires before venturing onto snowy or elevated roadways. It remains very smart to make certain your tires display correct balance before undertaking this task! For all these reasons, consider scheduling a wheel tire alignment check soon. Taking your vehicle to our Toyota service center in Ramsey, NJ for a routine wheel alignment inspection could save you money over the course of the year.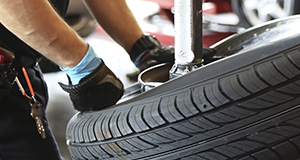 Prestige Toyota Service Center Serving
Ramsey

, NJ

1096 NJ-17 Ramsey, NJ 07446
Certified Automotive Technicians
Bringing your motor vehicle to your local Toyota dealership furnishes a significant benefit. Did you know, we only hire Certified Automotive Technicians? Everyone working on your car or truck at our dealership has demonstrated experience and knowledge by passing certifications tests. Unlike casual mechanics who may possess familiarity with only a few makes and models of vehicles, we've taken the time to gain a thorough, comprehensive background in automotive technology. We know the Toyota brands very well, but we also possess the expertise required to work on other vehicles. When you visit our shop for a routine wheel alignment inspection, we'll evaluate your tires from the perspective of mechanics who do possess a broad background in the automotive field. We've examined many, many tires and we often spot problems in the beginning stages of development. If we detect significant wear in one or more tire, we'll alert you to this issue.
Only Quality Automotive Parts
Our technicians serve customers by relying exclusively upon high quality OEM (original equipment manufacturer) parts. This policy holds many benefits. By making repairs with OEM parts, we gain the assurance that a particular replacement component will function compatibly within the automotive assembly. We don't need to make informed guesses about this issue. Our decision to depend upon reliable OEM parts benefits our customers because they won't need to run the risk the part will wear out faster within some makes and models of vehicles. Visit our service center in Ramsey, NJ soon to schedule your vehicle's next routine tire alignment service inspection. You'll gain confidence knowing you've placed your automotive maintenance in good hands!